Hello RCMP: Where are you?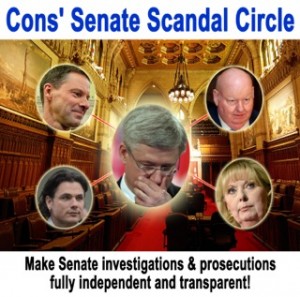 Obstructing justice?
If you attempt to obstruct the course of justice in a judicial proceeding by agreeing to pay a fine, dissuading a person by threats, bribes or other corrupt means from giving evidence, using corrupt means to sway a juror; or use corrupt consideration to keep someone from giving evidence you may be imprisoned for up to ten years.
Influence Peddling?
Influence peddling is the illegal practice of using one's influence in government or connections with persons in authority to obtain favors or preferential treatment ...
Bribery
Bribery is an act of giving money or gift giving that alters the behavior of the recipient.
Blackmail
Blackmail is involves unjustified threats to make a gain or cause loss to another unless a demand is met. It may be defined as coercion ...
Conspiracy
A conspiracy is an agreement between two or more persons to commit a crime at some time in the future.
Extortion
Obtaining money, property, or services from a person, entity, or institution, through coercion.
Coercion
Compelling another person to engage when they wish to abstain, or vice versa, by instilling fear