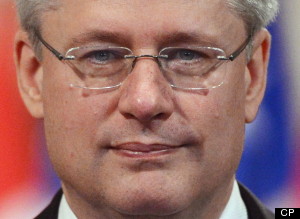 According to Wikipaedia Nigel Wright is an esteemed and honorable businessman. Mr. Wright awaits the outcome of an RCMP investigation into the expenses scandal at the time of my writing this item. Nigel S. Wright Nigel S. Wright is a Canadian businessman who served as the thirteenth Chief of Staff of the Office of the Prime Minister of Canada, from September 2010 to May 2013. Born: May 18, 1963 (age 50), Hamilton Education: University of Toronto, Harvard University
According to the Globe and Mail Wright is a man who was long judged a strong and capable PMO chief of staff. He was praised for bringing business sense to the PMO while leaving his lucrative business career for the public service.
How lucrative? According to Wiki, He joined
Davies Ward Phillips & Vineberg
and was instrumental in the success of one of the most complicated construction projects in Canadian history : the multi-billion dollar
Confederation Bridge
between
Prince Edward Island
and
New Brunswick
. He was made a partner with the firm after only five years, but didn't stay long :
Onex Corporation
CEO
Gerry Schwartz
had been impressed with Wright and took him under his wing, praising his judgement and character. He climbed the ladder at Onex, the largest private sector employer in Canada, and eventually became a managing director with the firm, securing his reputation as a
Bay Street
heavy hitter.
[4]
Nigel Wright is said by the Prime Minister of Canada to have made a covert $90,000 gift to beleaguered Senator Mike Duffy while speaking to MPs in the Commons Tuesday.The money was a gift from Mr. Wright, a millionaire businessman, but the Duffy alleges he was ordered to tell the public he had taken a loan from the Royal Bank.
So who is telling the truth? Mr. Harper has repeatedly denied knowing that his chief of staff gave the $90,000 to the PEI senator and he
dismissed
Mr. Wright from his post in mid-May after first defending his top aide. When Wright left his office,
the Prime Minister lauded his former aide publicly
, saying he accepted the resignation
"with great regret"
and thanking him for his "tremendous contribution" to the government.
Harper said
May 19 in accepting Wright's resignation for his role in the Duffy affair:
"I accept that Nigel believed he was acting in the public interest, but I understand the decision he has taken to resign. I want to thank Nigel for his tremendous contribution to our government over the past two and a half years."
He then said in a radio interview on Monday:
"As you know, I had a chief of staff who made an inappropriate payment to Mr. Duffy. He was dismissed."
He then told the Commons on Tuesday.
"Once again, Mr. Speaker, on our side, there is one person responsible for this deception, and that person is Mr. Wright. Mr Wright by his own admission. For that reason, Mr. Wright no longer works for us."
Is this credible?
Well who has been changing their story? Wright has been silent, Duffy has paperwork to support his assertions: Only Stephen Harper has been changing his story. Remember that telling the truth is easy, you just recall events, you don't have to remember what you said previously, like in Question Period...
My opinion here is that it is NOT CREDIBLE! The prime minister has been evasive in his answers. He has at first said that nobody else knew about the $90,000 payment, and now it appears that a great many people knew.
Based on the evidence, either Mr. Harper knew and lied about it, or he did not know about it and is incompetent in the running of the PMO. Either way, he should resign.
Time will tell but if I had to take one side or the other my bets go with Nigel Wright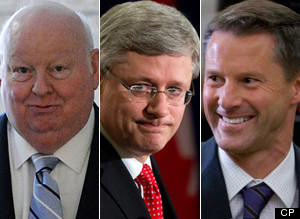 What bother with all of this?
Won't voters be unimpressed with the Prime Minister's equivocations? after all, isn't he doing his best for the economy?
Linden MacIntyre said it best: "The human tendency to be offended by abuse - torture in a secret prison, a lie told under oath to fool the public, squandering of public treasure - remains a vital force in conscientious people"
I hope he is Wright!